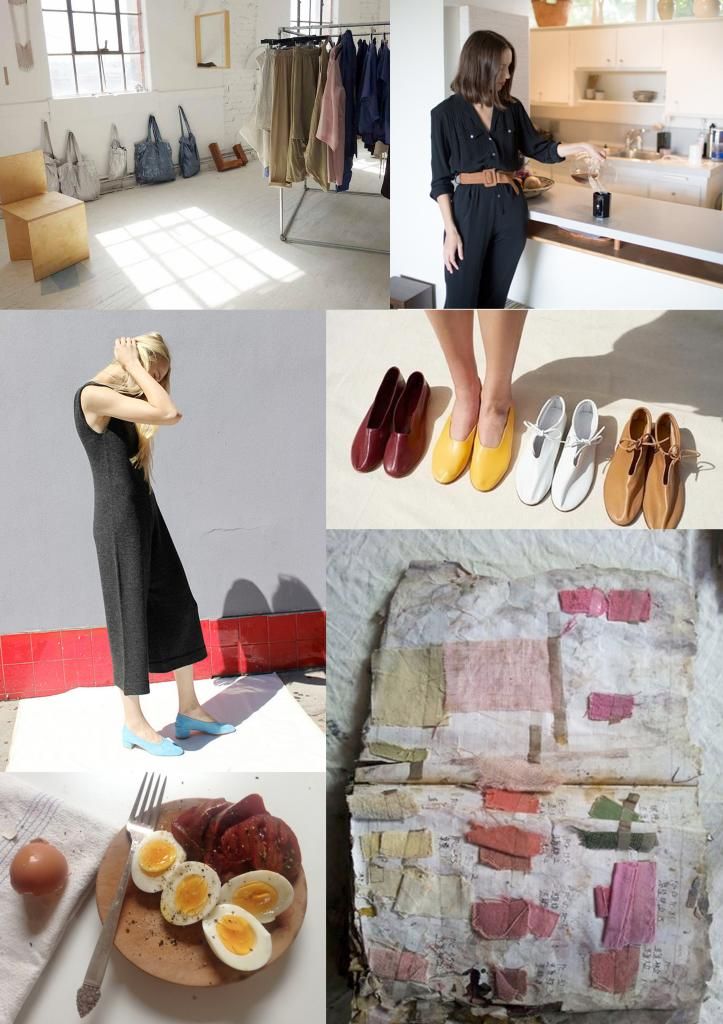 Images from top left: Iko Iko Space / Kayten Schmidt on Closet Visit / Lauren Manoogian at MNZ store/ Martiniano shoes / IRL at WUT magazine / photos of dye recipe books from a Chinese factory by Henrik Drescher.
It's always a long time between drinks here. I've been keeping busy with
Kinobi,
confirming orders for next season, spending time interviewing the designers I'm stocking (you can read the
current interviews here
with more to come each week) and before you think it is all glitz and glamour around here I've also been doing a lot of photo editing, accounting and other boring admin. And also working at my other jobs to make the money to, you know, buy food and pay rent.
Don't get me wrong - I'm not complaining. I love that my work/life balance is non existent, that it all blurs together. There is great freedom in this. And so, here are some things I've been loving/doing/reading lately, in between all the fun small business times.
- Loving Stevie's
weekend lists
which have become a go-to for interesting reads, along with Jessica Stanley's always fabulous
Read. Look. Think.
- Admiring the latest range from Lauren Manoogian at
MNZ store
and
Martiniano shoes
- Reading about Kayten Schmidt's wardrobe on
Closet Visit
, and nodding my head when she lists coffee as one of her 'can't live withouts' - despite trying.
- Meeting and chatting with a heap of other local 'creatives' (whatever that means), who like myself also live a mixed up life of paid jobs, side projects, small businesses, second jobs, freelancing and more all rolled into a beautiful mess.
- Looking forward to
Ottolenghi's talks in Melbourne
at the end of the month and planning many cook ups from his latest book
Plenty More
.
- Eating perfectly boiled eggs, inspired by
Ashley Helvey'
s IRL project for the great new
WUT magazine
- Becoming obsessed with natural dye. I recently took two workshops to learn more, one on botanical dyes and one on indigo. It is a fascinating process, similar to cooking or science experiments. So I was particularly excited to find these photos by artist
Henrik Drescher
who visited a natural dye factory in China and documented their dye recipe books. The full images are available
here
.